Most stone suppliers group granite colors from 1-5, "group 1" being the least expensive and "group 5" being most expensive.
Each group represents a price category only. The groups are determined by how available a stone is in the market, somewhat similar to how gemstones are priced.
Don't let the # 1 scare you, it has nothing to do with the quality of the stone. In fact, sometimes the lower priced granites are the best quality stones.
Below is a picture from
our portfolio
of a "group 1" granite called
Giallo Ornamental.
It does not matter to
us
what group you choose your stone from, we will fabricate it the same way. However, the group of stone you select will have a direct reflection on your per square foot cost.
Labor is a pretty set cost, it's the granite colors & upgraded edge details that will cause your square foot price to fluctuate.
Below, the Cosmic Black granite is a
"group 5".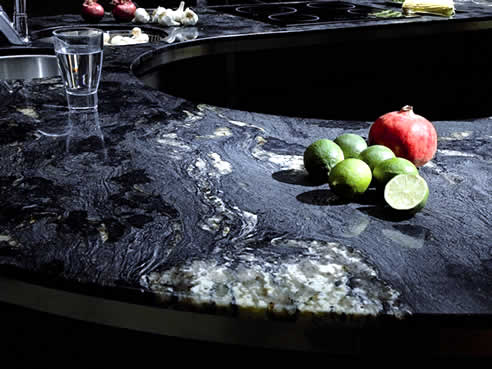 Note: Please keep in mind prices vary drastically in different areas of the country, per supplier and per fabricator.
For example: Giallo Ornamental is a "group 1" granite here in Utah when you buy from us. I've heard in other parts of the country it's as high as a "group 4". Please understand I just talk about pricing that is applicable in our market here in Utah.